VALERO | DIGITAL WAKE | 2022-23
VALERO

Digital Wake worked with Valero to design learning guides and PowerPoint presentations that include 6 volumes with 38 books. How might we solve the problem of creating a better user experience for engineers to learn and test with confidence in the oil industry? We propose re-creating the learning guides through a content writer (refining information) and redesigning/designing the layout of each book for easy readability and comprehensive knowledge. This would enable engineers to quickly access and understand the content in an engaging way. We would also use digital tools to make content easier to access. Valero provides a QR code at the end of every lesson to learn more about the course. Furthermore, we would create a course structure with interactive elements, such as quizzes and simulations, to help engineers retain information better.
APPROACH
The challenge was to create an effective, friendly User Interactive design, programing and implementation support for users to have a learning experience based off a Ted-talk speaker of their choice.
MY ROLE
My role as a designer was to build the following pages and select the appropriate template based on the content and work with the content writers to make sure the user flow was in place. I also worked to ensure the content was optimized and the page was visually appealing with the correct color palette, font, and images. Finally, I tested the user experience to ensure the page was interactive and easy to navigate.

Issues that arose were addressed and resolved quickly. We worked on creating a design solution that would meet the customer's needs and be implemented in a timely fashion. The design was successfully implemented, and the customer was pleased with the results. This design solution created a process for step-by-step actions on how to tackle a learner guide with multiple pages and information, and how our clients can also jump in and easily fix or change whatever issue they see fit. This design solution also included an InDesign template that set up paragraphs, characters, and A-frames consistent across multiple books.

Once the books were completed they were paired with their own PowerPoint presentations. I cleaned the PowerPoint presentations once the content was implemented. I made sure the branding on all of the slides was consistent.

This project took about 10 months to complete. The client was satisfied and wanting to more work to be done by digital wake.


---
SERVICES: INDESIGN, POWERPOINT, LEARNING EXPERIENCE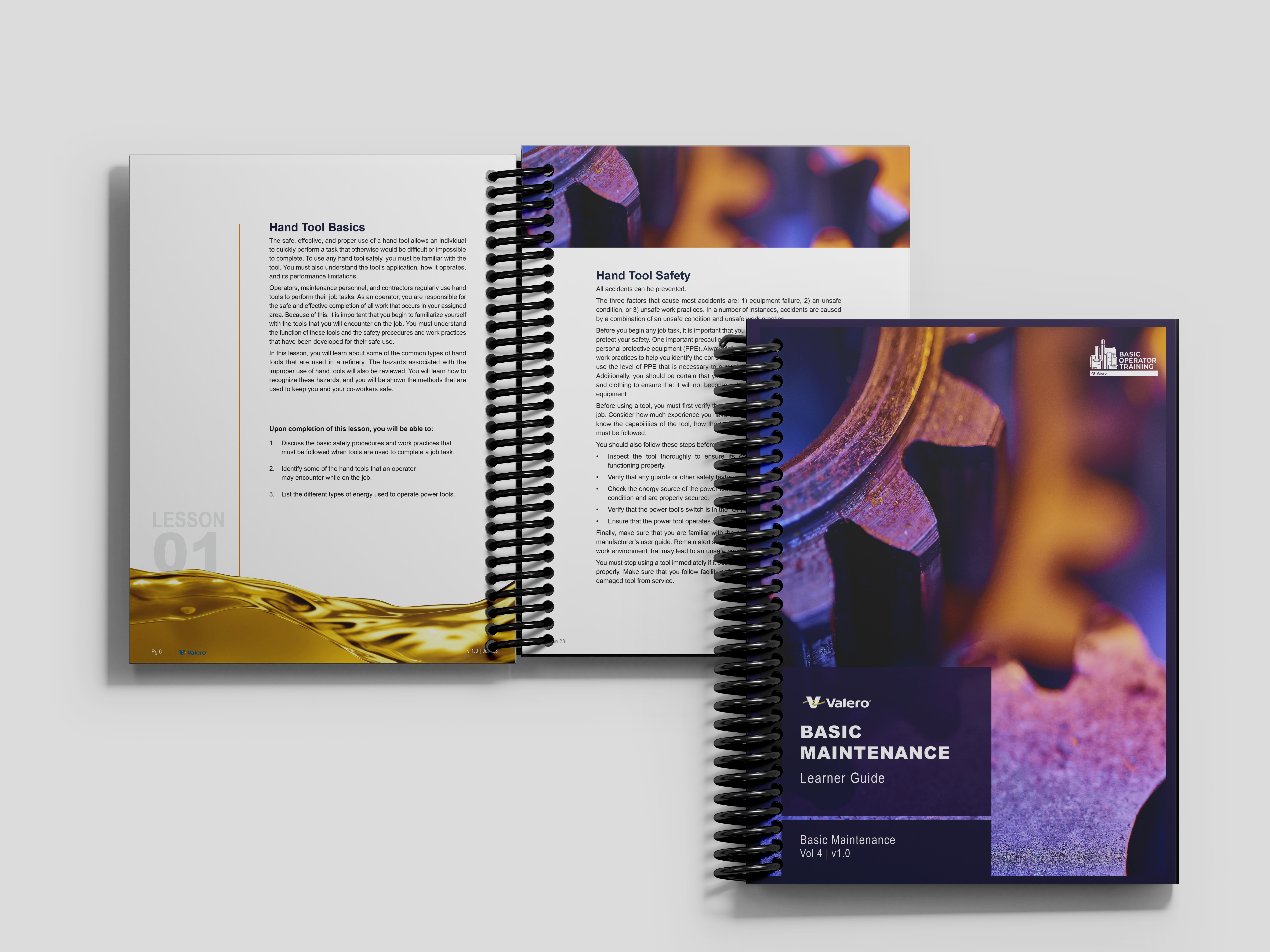 How might we create a better educating program for engineers to learn and test effectivley in the oil industry?